Bet Roster Instructions
We target races which show a positive LSP (level stake profit) on Today's Races.
In addition, we use races where the Fav % is a minimum of 45%
If there are no qualifying races at 45% Favs, then reduce to 40%
The LSP must be showing a green positive figure, if you need to reduce races then increase the LSP required from 1 upwards 
You can also use a maximum number of runners of 12 
Filter your target bets each day here: 
Bet Builder Settings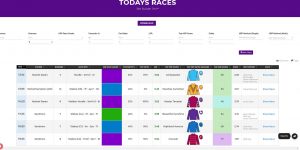 What Are Fav % & LSP Races? 
LSP races means 'level stake profit' – so if you had put £1 on every SP Favourite in our data sample for those races you would have made whatever the green figure is in profit! 

We use a winning Fav % of 45 or 40% for races to tackle.

It means that at the course in question, for that classification of race (Novice Hurdle, Handicap Chase etc.) the SP Favourite has won at least 45% of the races. 

This means that we are targeting the very best betting propositions for the day and with betting techniques which include the horses most likely to win or make the frame

For enhanced strike rate we include the HRP Top Rated in the bet – where the odds available make this possible.

The LSP column in the screenshot must be showing a Green positive figure. 
Bank Set Up
100pts with a 2pt minimum stake

Reinvest profits each day to raise point value

Aim for a 2.5% profit on capital each day
Bet Roster Instructions 
Use the HRP Platinum staking protocols for the SP Favourite. That is the actual race favourite in the live market at race time

Play the SP favourite selection along with the HRP Top Rated if you can get both into the bet

If the first race of the roster shows a profit, we recommend considering stopping betting

Consider to use the 'extra place' markets if the target odds are obtainable and it makes a target

If HRP Top Rated is the SP favourite, then this means you either play to Win/Place or Split bet

I am using the HRP Platinum Staking Plan and including the following options to play:

Win – a straight single bet played to odds on either a 'win', 'place' or 'extra place' market OR a balanced dutch including the SP Favourite and HRP Top Rated

Split Stake – where the stake is split between the win and place element

Multibet – where the next stake is equally divided between two or more selections and may be placed singly on a win, place bet or combination thereof

Dubble Bubble – where I look to get the SP Fav and HRP Top Rated into the relevant bet by using either a win and place bet or on occasion two place bets and the chance of TWO winning bets