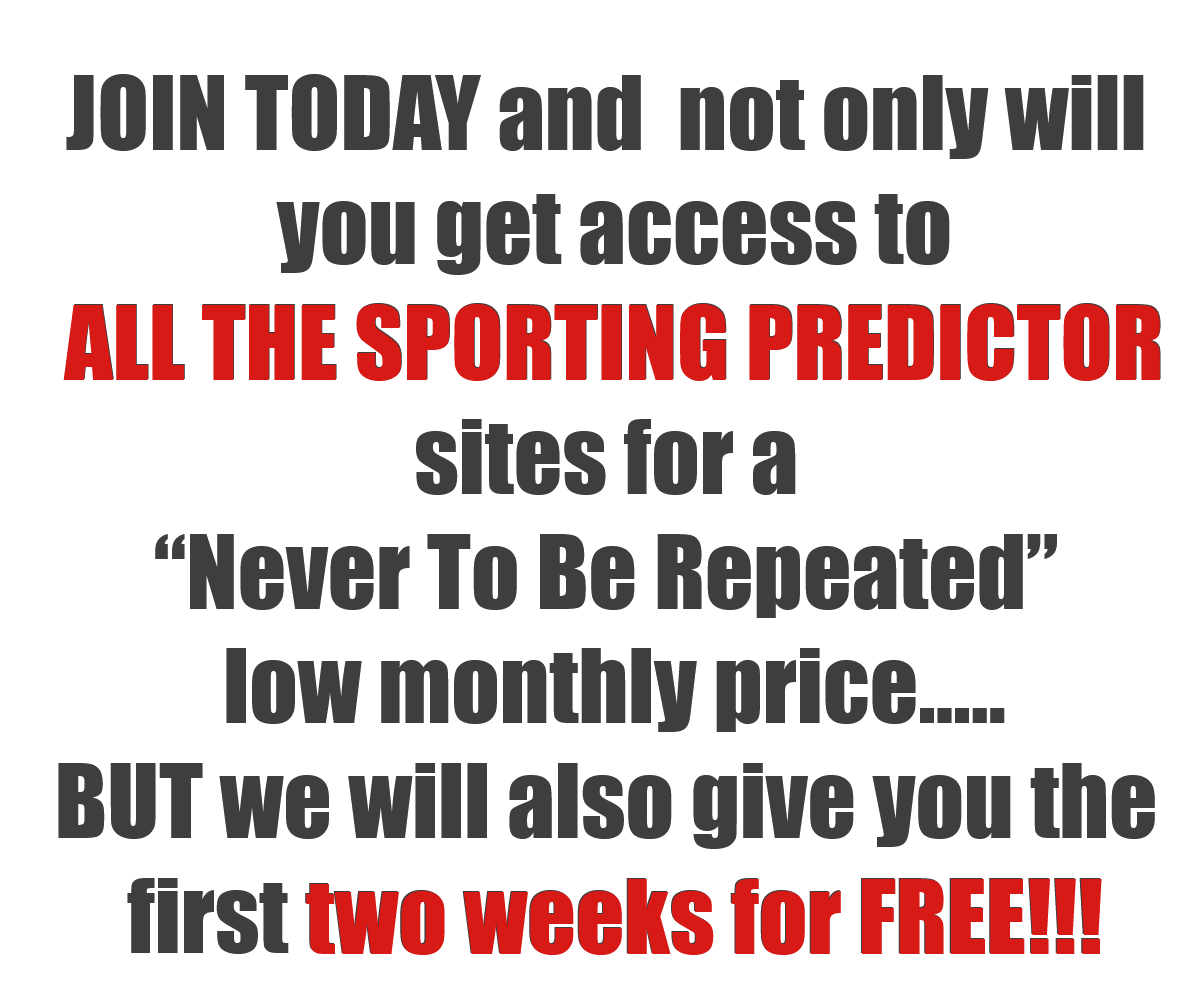 PLUS WE WILL GRANDFATHER YOU IN AT A SPECIAL MONTHLY PRICE FOR THE LIFE OF YOUR MEMBERSHIP

Over the last three years the team here at Sporting Predictor have almost done what we set out to do. We set out to build a comprehensive array of predictive software and betting techniques which could transform the financial circumstances of our members by bringing them into clear daily profit, and helping them not only 'pay their bills' but save a nest egg for their families and future.
So why do we say we 'almost' achieved what we set out to do?
When we sat back and took a cool, hard overview including listening to our members, we realised that we could makes things even better. So we have made things even better including focussing on enabling new starters to be up, running and profiting in the quickest time possible.
Why am I seeing this special offer?
You are in the right place at the right time. But hurry this offer won't be around for much longer.
Can I get started today?
Yes you can…
1. The member area is totally focused on ease of use with practical guides to getting started making profits in the quickest and most simple way possible.
2. Our Guru Betting Clubs are arranged into Beginner,  Intermediate and Advanced categories so whatever your level you can start making a profit today.
2.We will give you access to ALL The Predictor Sites for a never to be repeated monthly fee.
3. You will get access to ALL betting clubs and systems.
4. Access to a complete Learning Management System for your training.
So to recap…
Join today and not only will you get access to ALL THE PREDICTOR sites for a never to be repeated monthly price….. BUT we will also give you the first two weeks for FREE!!!
PLUS WE WILL GRANDFATHER YOU IN AT A SPECIAL MONTHLY PRICE FOR THE LIFE OF YOUR MEMBERSHIP

Includes access to:
The Horse Race Predictor UK & Ireland
The Horse Race Predictor USA
The Horse Race Predictor Australia
The Greyhound Predictor
The Football Predictor
The Tennis Predictor
The price of this deal will be £129 BUT If you take our Third Anniversary deal right now, not only will we give you the first month for £38.50 (Two Weeks Free), we will also give you membership for just £77 from the second month onwards (40% Discount) BUT YOU HAVE TO ACT NOW
Do I have your attention?
Great, but before I tell you exactly how the above figures are possible let me tell you a bit about The Horse Race Predictor and The Sporting Predictor.
The Sporting Predictor is a family of websites which include:
The Horse Race Predictor UK & Ireland

The Horse Race Predictor USA

The Horse Race Predictor Australia

The Greyhound Predictor UK

The Tennis Predictor

The Football Predictor






The Sporting Predictor sites provide the methods and selections that aim to consistently make a profit everyday giving YOU the edge on the betting markets.
Each of our websites has a members area with 24 hour live updating selections, methods, live members chat and more. In addition our members areas include well thought out and unique rating systems and colour coding to help you identify the strongest betting opportunities. We also have a team of gurus that you can follow along with daily. We cover all different levels of experience so even if you are a new starter we have you covered.
Our systems are concentrated on making a daily profit target by using mathematical and statistical analysis, unique staking plans and tried and tested methods. By focusing on the data and probabilities we can consistently achieve daily set targets. We don't regard our approach as gambling but more of a very real opportunity to grow your bank balance.
The Best Horse Racing Program…
"I've been involved in the racing for over 40 years as a track rider, Owner and punter and without a shadow of a doubt this is the best horse racing program I've seen and been involved with" Steve – Australia
HRP Gives you a massive Edge
"Winner after winner, HRP gives you a massive edge" Craig – UK
The Best Horse Racing Systems we have reviewed in over 10 Years
"The Horse Race Predictor is without doubt the best horse racing tipster service we have reviewed in over ten years" CashMaster – UK
OK Let me show you how it's possible to turn £500 into £114,571.19 in just 365 Days…
This is a conservative figure too based on 1.5% daily profit target. We often attain more but lets look at a starting bank of £500 using 1.5%.
Day 1: £507.50
Day 30: £781.54
Day 240: £17,816.41
Day 365:

£114,571.19
I'm sure you will agree that these figures are astonishing. They are based on compound daily interest (Einstein described Compound Daily Interest as "the 8th Wonder of the World")

There is no bank or hedge fund on Earth which could match 1.5% daily interest. In fact you would be lucky to make 1.5% interest in a year!!!

Use our calculator to see how much YOU could aim to earn in 365 days by entering your starting bank, a daily interest between 1.5% and 2.5% and 365 days as the term.
Many of our top earners do 5% a day. Just tap that in the calculator and see what type of returns you can generate if you rise to their level (with our help)
There is also nothing to stop you reaching say £10,000 and then simply withdrawing £150 to £250 per day from your betting account.
Calculate How Much You Can Make…
I know nothing about sports betting and have never placed a bet before. Is this for me?
Click to read this from member Dr Rob who now runs our Beginners/New Starters Club in the Horse Race Predictor Members Area
"This is just a brief introduction as to how and why I am here and doing this.
13 years ago, my wife suffered with a severe illness which forced me to change my job from a Commercial Mortgage Manager with a Bank (I loved that job) to a Postman! (Because the hours were less allowing me more time at home.) As you can imagine, my salary dropped quite a lot and we also lost out on my wife's income. Last year, because of all these years of stress, I had to leave my job on health grounds. Income hammered!
I have spent YEARS and a LOT of hard earned money looking at ways to increase our income. I bought courses on betting, Ebay, Amazon, Shopify, Alibaba, Book Selling. I even paid for a course on "How To Win The Lottery". Can you believe it? Every one of these was going to be the answer. Guess what the result was? Yea, absolutely NOTHING. Well, if you take into account the cost of these courses, along with the cost of starting them, I lost a load of money.
A few years ago, one of the courses I paid for was by a old school bloke. His software was brilliant, but I am a total "non horse person" so never really had the confidence in myself or the discipline needed to follow it through. More money gone.
Then, a few months ago, I received an email from a bloke called Gav Summerhill.
I must point out that horse racing bored me rigid. I didn't like it I didn't know anything about it, apart from my annual bet on the Grand National. I didn't know the difference between a filly and, whatever the other is called. I'm still not a horse racing person. Obviously, I knew a few of the top jockeys and trainers names. I also knew of races like Cheltenham, Aintree etc. But that was about it. (I even removed the Horse Racing Channel from my Virgin box because I never ever watched it. It simply did not appeal.
There was one thing though about horse racing that DID appeal: I knew some people were making a fortune betting on the races. It was however, betting on something that I knew nothing about and didn't want to learn about.
I read Gav's email and it was about something called The Horse Racing Predictor. "Not another scheme" I thought, but I clicked the link anyway.
They had an offer which I took up as it really did look good. The software they were using was awesome. But I didn't know how to use it properly. Terms like "Dutching" and "Double Bubble" simply flew over my head. So, my trial soon ended. I then paid for a full month thinking I was going to make a stack of money – but I didn't. I didn't know what I was doing so lost interest as well as my money on the subscription. Subscription cancelled, more money gone. Here we go again.
Then, I got another email from Gav Summerhill saying that they had listened to a lot of people and what these people were asking for was simply a pick of the best horses with a great chance of winning. Or at least Placing in the top 2, 3 or 4, which should give a nice return for not a lot of work. THAT is what I was looking for as well.
I paid for the subscription for the "One Bet A Day" system, which soon had "The Tripler" system added. That was JUST what I was looking for. Then, when I actually read the Home Page, there was something called the "Tripler Place Ratchet System."
Now, I do all 3: I play the One Bet A Day, Tripler and Tripler Place Ratchet systems. This takes me about 10 minutes to set up in the morning.
I HAVE ALSO RECENTLY CREATED A NEW SYSTEM: "DOC'S FAV GOLDMINE" WHICH IS PROVING TO BE HIGHLY SUCCESSFUL. IT DOESN'T PROVIDE EARTH-SHATTERINGLY MASSIVE PROFITS, BUT IF YOU LIKE TO MAKE 2.5% A DAY, IT COULD BE JUST FOR YOU. 🙂
My initial thoughts were that these Gurus were making a ton of money. I knew I wasn't in their league, but my thoughts were along the lines of: If I had £100 in the Bank, I would receive £1 back after a year – IF I'M LUCKY!. If I could make a percent or two a DAY, that would be all I was looking for.
I started with a Bank of £100 (I know, it's not an earth shattering amount) but after a few weeks, my Bank grew to well over £200. I appreciate this isn't in the same league as these Gurus, but it was a Hell of a lot better than a quid in a year!
For the first time, I can actually look forward to a rather decent Bank amount after a year. There will be (and have been) days when I have lost. I know they can't predict winners on every race. But, I also know that the Law of Averages, combined with faith in their software, I will be up in the long run.
So as not to bore you with a really long piece of script, I will put together details of what I do every morning. I hope, if you come along on this journey with me, you too will be able to see light at the end of the tunnel. Especially for those people like me who STILL hasn't got the faintest idea of horses, form, conditions, handicaps, Grades, chases etc. (That to me still goes right over my head!)" – Dr. Rob
Will I not get Banned from the Bookmakers if I win ALL the Time?
We do not use standard bookmakers we use the exchange markets. By using Betfair Exchange and BetDaq we are playing against other players rather than against the bookies so the issue of getting banned is NOT A PROBLEM.
Can I use this in my Country?
We recommend our members to have a Betfair or BetDaq account. Click here to see if you can use Betfair in your Country
Betfair is currently available to customers in over 40 countries world wide with nine nations currently holding a Betfair licence. As with many bookmakers and betting exchanges, the evolution of gaming laws across the world continually impacts which nations can and which nations cannot bet and trade with Betfair.
In order to help you in working out whether you can legally access the Betfair site, the following is a list of legal countries from which Betfair do accept customers:
Armenia

Australia

Austria

Belarus

Belgium

Bosnia and Herzegovina

Brazil

Bulgaria

Costa Rica

Croatia

Cyprus

Czech Republic

Denmark

Egypt

Estonia

Finland

Georgia

Germany

Gibraltar

Greece

Guatemala

Hungary

Iceland

Ireland

Italy

Latvia

Liechtenstein

Lithuania

Luxembourg

Macau

Malaysia

Malta

Mexico

Netherlands

New Zealand

Panama

Peru

Philippines

Poland

Romania

Russia

Saudi Arabia

Slovakia

Slovenia

South Korea

Spain

Sweden

Switzerland

Taiwan

Thailand

Ukraine

United Arab Emirates

United Kingdom

USA (some states are restricted)
Includes access to:
The Horse Race Predictor UK & Ireland
The Horse Race Predictor USA
The Horse Race Predictor Australia
The Greyhound Predictor
The Football Predictor
The Tennis Predictor
The price of this deal will be £129 BUT If you take our Third Anniversary deal right now, not only will we give you the first month for £38.50 (Two Weeks Free), we will also give you membership for just £77 from the second month onwards (40% Discount)