EXCLUSIVE MEMBER UPGRADE OFFER
VIP PACKAGE (10 Available)
UNLOCK ACCESS TO ALL CURRENT SPORTING PREDICTOR PRODUCTS & BET AUTOMATION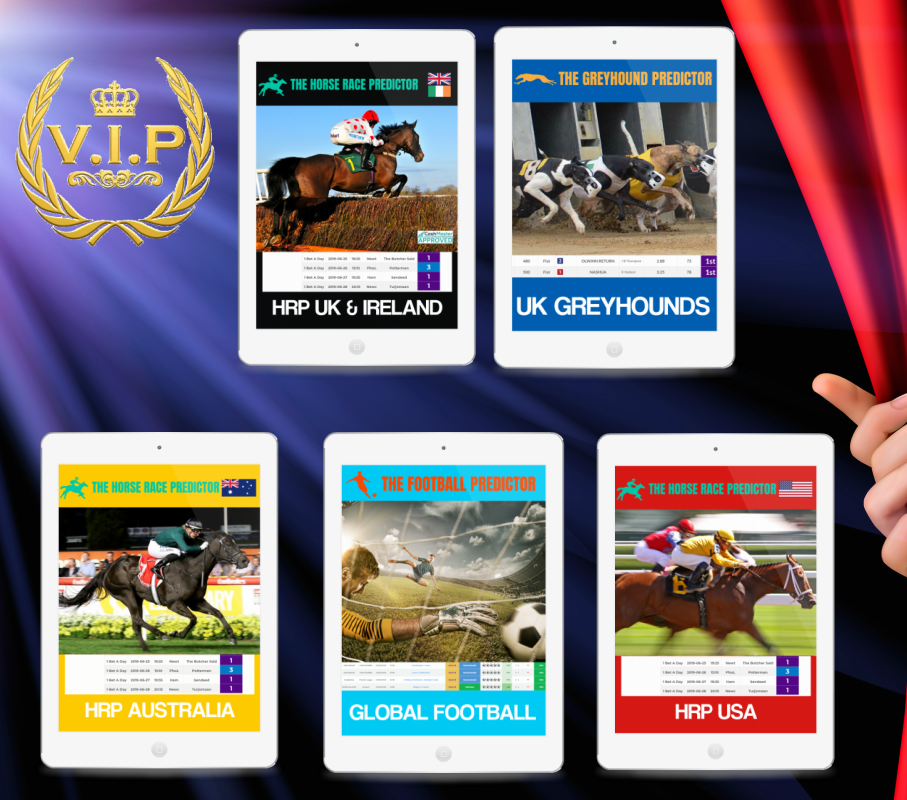 HRP UK & IRELAND (membership required*)

(not yet a HRP member? – click here)
HRP USA (£664/Year)
HRP AUSTRALIA (£664/Year)
THE GREYHOUND PREDICTOR
(NEW)
(£997/Year)
THE TENNIS PREDICTOR
(NEW)
(£997/Year)
THE FOOTBALL PREDICTOR (£444/Year)
HRP MASTERCLASS LESSONS (£497/Year)
EXCLUSIVE VIP CONTENT (£313 Year)
HRP BET AUTOMATION** (£497/Year)
FLIP IT SOFTWARE(£997/Year)
TODAY

£6997 
£997 ONE TIME UPGRADE FEE*
(SAVE £4500)
*Monthly membership to The Horse Race Predictor required. Cancellation of monthly membership will result in losing VIP access.
**On going maintenance fee for Automation Software 66p per day. First 30 Days free.
"My advice is simple, if you're in here already and you're not a VIP, then the sooner you become a VIP the sooner you'll reach emancipation."
When I was first introduced to the HRP website and Gav Summerhill, I initially thought, here we go again another get rich scheme or tipster, because I've tried them all and failed.

How wrong was I, to give you an idea, before HRP, I had lost over 25k on betfair over the past 6 years.

First of all, HRP has so many profitable systems, I'm still slightly bemused to why they're selling their services considering how much potential revenue is available.

I started off initially with one or two systems and realised how much potential HRP has to offer. So, after a couple of months learning the systems and making a profit. (The only reason I hadn't made any significant profit was because I had messed up a few times using incorrect staking and I was using my phone, which was all my fault, not the systems.)

I decided to buy the VIP package and become super disciplined with the platinum staking plan and as a VIP I get to use the automation software.

I only had a small account, but within three weeks I had recovered my VIP costs and made it to my 5k target. I then started to diversify my systems further and incorporated greyhounds, football predictors and my personal favourite Gav's Goldmine, (which is exactly what it says, it's unbelievable.)

I now pay myself every day and I'm a few thousand shy of recuperating my 6 years of losses I accrued before I discovered Gav, HRP and the rest of the team.

There are lots of knowledgeable people in here and there is someone always ready to help, either within the chat or the forum.

My advice is simple, if you're in here already and you're not a VIP, then the sooner you become a VIP the sooner you'll reach emancipation.

If you're not in here or not a VIP, then you have no idea what you're missing.
Selection of VIP Member Live Chat Messages...
KeithRudd
11:36AM Target of +5% hit in under 30 minutes
Lieutenant K
11:37AM 13.2 winner in the 11.36. I got 16.0
MalcolmMaguire
11:38AM Phew, got 16.5
Janne Samuelsson
11:38AM 16.0
Arthur
11/24 12:57PM Lovely win at 6.7 for 5% again today. I have reduced from a 25-point split to a 50
The Wizard
12:31PM Oz Racing selections for Thursday posted. We had another 4.95% profit today.
AnthonyGreen770
10:33AM Those are fantastic strike rates for greyhounds. So much can go wrong in greyhound racing….you only have to watch the first bend to know that, but the Predictor is picking out winners of all odds, left right and centre. There were two races last night where a 1.3 and a 1.4 red hot fav were both beaten. But in both instances they were beaten by picks on the Combo. And if you add in an 18.9 odds winner too for good measure, it was a very good day!!!!!!!!!!!!!
Lieutenant K
10:28AM Since I've been doing them from the 17th November Combo strike rate is 80.2% & GP3 strike rate is 71.8%
Keith
01:09PM Using the GP3-BDP today I decided to let it run starting with the 09:18 race, it has now hit target 7 times in a succession, Fantastic system my original bank is +60 % in only 4 days!
The Wizard
06:10AM
I am stopping for the month.. With Today 3.95% profit I'm now over 166% up for the month and havent had a debit day so I'm not going to be greedy because odds so one is coming.. So as all our Covid restrictions have now lifted I'm going to take the family away for the weekend. I will still put up the post for bit the AUS and UK for those that wish to continue and I will do a post for the months results in the next few days.. It has been an unbelievable month for the Ozzie site as I say no debit days and 166% profit i took a $2500 balance at months start to now over $6500.. Have a great weekend all
Paladin
11/19 08:32PM
First time i have looked at HRP dutching list 7 Losers 1 arab race 31 winning bet races that what i call IMPRESSIVE ! ! ! ! ! ! ! ! !
Art O


This is my betfair account since Monday. I do FavMax Place (10% Ratchet) and Goldmine Top 3 (10:30 grab). Posting this for encouragement, not to brag.