'Pay Your Bills' Is A Unique Betting Programme 
We use the HRP Platinum Plan Multi Bet, Balanced Dutch & Dubble Bubble Principle for this job.
The Pay Your Bills Plan is suitable for building up betting capital steadily OR for starting with a large lump and taking out profits each day or week to 'Pay Your Bills'
If building your bank then aim for a 2.5 to 4% profit per day.
If you deposit £5,000 and you need around £2,000 per month to pay your bills, then aim for about 1.5% profit per day or £75
This will return a minimum of £2100 over the course of 4 weeks and should handle your outgoings
We realise not everyone can deposit £5K, but if you are building the bank the principles of betting will remain the same.
Soon as you hit your betting targets, stop betting and withdraw it to your bank.
8 or 9 days out of 10, we should see the Job Done by the 1,2 or 3rd bet.
Rules Of Engagement
Go to the Dutch Diamond and Dutch Gold areas of the HRP Method Suite and play the bets in time order!
This is what you will see: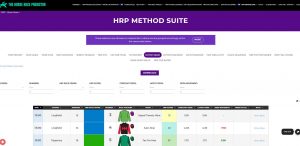 There are three sets of Dutch bets there, Gold, Diamond and Banker if you look along the menu bars.
Dutch Bankers are bets which appear in BOTH Gold and Diamond rosters, so you can focus only on them, but get far fewer bets.
On the right hand side of the bets you see an icon which says 'Copy'
Click on this and you can automatically paste the bets into a spreadsheet and then organise them into time order
Here are both sets of bets copied and pasted to a spreadsheet for May 20th: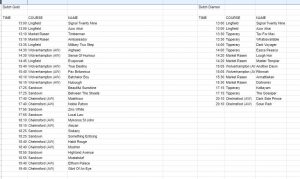 Here are the two rosters distilled into one Joint Roster: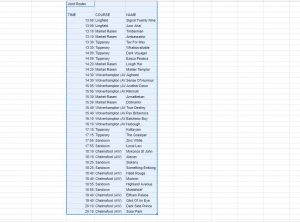 There are little nuances and tricks of the trade, alongside 'options' on how to play the bets.
Let's look at a few examples: 
1)
The selections in a race might be 2.39 and 6.77, so playing the balanced dutch you would get 1.8 and a return of about £180 from a £5000 bank split into 50pts, which is 3.2% profit.
If you play the balanced dutch you simply work out the combined odds and use the Win as the bet with the Platinum staking plan.
You will need to use Gruss Betting Assistant to play these bets most conveniently and practically.
Or, I could use the Multibet approach and split the stake equally.
If the 2.39 odds above won, you would make a 0.78% profit on my £5K bank and stop betting £39 up.
BUT, if the second selection won at 6.77 you would make an 11.54% profit on my £5K bank and stop betting £577 up.
It would perhaps be a case of 'Do you feel lucky'? OR take the Balanced Dutch at 1.8 for the example above.
2) 
The selections in the race are both very well fancied at the head of the market and in the live market 2.2 and 2.45, playing the balanced dutch it's only about 1.18
That is about 0.45% profit at 2.2 and 0.9% profit at 2.45 – still a profit of course! Little fish are sweet.
Options:
Play the balanced dutch at 1.18 and get a 0.36% profit
Back them to the Multibet principle and get either return listed above
Lump your stake on a Win Bet on one or the other (one of them is almost certain to win). Logically it would be the shorter odds, but the higher odds may be HRP Top Rated etc.
So, as ever there is judgement involved and that can be made upon logical lines once you get the hang of things! 
3)
The selections in the race include an odds on favourite at perhaps 1.75 and 2.9 for the second favourite.
If you play the balanced dutch the return is about 1.09 and too short to consider.
You therefore either play the Multibet knowing you will take a slight loss on the odds on favourite if it wins or make close to a target in the longer odds wins, particularly if it's about 3.6 to 4.1 which are quite common 2nd favourite odds alongside an odds on favourite.
OR – you can lump your whole stake as a WIN bet onto the odds on favourite if you think it is going to win and the second favourite is not HRP Top Rated etc.
Most races are a more clear 3.8/4.2 or 2.9/5.4 or 3.8/3.6 etc. 
So you simply play the Balanced Dutch as a WIN bet or use the Multibet principle on the HRP Platinum Staking Plan.
Advanced Methods
The Dubble Bubble
This is a single stake of any amount split equally between a Win bet and a Place bet.
The unique quality of a successful Dubble Bubble is that it can mean you get TWO winning bets in a race if the win selection wins and the place selection gets in the frame.
So the Win odds are 3.5 and the Place odds are 2.5. A profit is assured if either bet wins BUT if they both win profits are boosted appreciably.
You can also use the Dubble Bubble technique on two Place bets if the odds available allow that.