Staking: Platinum / Place odds must be over 1.6 to split stake, start sequence at 1 or 2pts
System Bets: Use Bet Builder, 12 runners max, Winning Form, LTO Finish 1-3, C&D Winner, 56 Days Max, Forecast over Evens (2) 
These Bet Builder filters are found on the HRP Top Rated section in HRP Method Suite
Bank: 100pts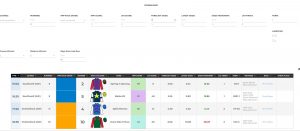 System Analysis
I wanted to go through my old Sporting Investor and other post-war British betting publications to gather a kind of consensus about essential elements of successful mid to longer odds bets which were logical and easy to identify with our site technology.
Here we have it!
All selections do of course, have to be HRP Top Rated. This is the lynchpin.
I am avoiding 'extra place markets' as the point of this is higher odds winning bets.
Overall, we don't want too many bets in our sights, but we definitely want enough!
We should consider enough, the number of qualifiers from these filters.
12 Runners Max – Because we are using a place element set at 2 or over, we want to have a good balance between high raw chance place success and number of bets available. 12 does it, I reckon
Winning Form – You put a 1 in the Form section of Bet Builder and this isolates selections that have actually won a race in recent times
LTO Finish 1-3 – This isolates selections which have good recent form, as measured by the last run. They either won or were placed 2nd, 3rd
C&D – We only focus on selections which have won at the Course & Distance in question for the race
56 Days – This gives us selections which have won within a reasonable time and should therefore be race-fit and prepped, plus it gives us more bets to go at
Forecast over Evens (2) – Because the classic staking methods which I based Platinum on would be based around odds above Evens! We don't want odds-on for this method.
Running Profit Column
I have included this as it shows where the sequence gets into profit and is useful for the busy sportsman who likes to make a target, then move onto another area of profit interest on the site!
Win odds really need to be over Evens at race time, as of course we are looking for the bigger odds winners with these selections!
Example
| | | | | | | | | | | |
| --- | --- | --- | --- | --- | --- | --- | --- | --- | --- | --- |
| | | | | | | | | | | |
| Time | Course | Selection | Result | Win Odds | Place Odds | Stake | Return | Profit | Recovery Column | Running Profit |
| | | | | | | | | | | |
| 16:37 | Carlisle | West To The Bridge | WIN 1st | 2.2 | | 2 | 4.4 | | | |
| 16:45 | Dundalk (AW) | Pandemic Princess | WIN 1st | 6.6 | 2.1 | 2 | 3.3 (Win) & 3.15 (Place) | | | |
| 17:00 | Newcastle (AW) | Athmad | WIN 1st | 2.25 | | 2 | 4.5 | | | |
| 17:30 | Newcastle (AW) | Engles Rock | Debit | | | 2 | | | | |
| | | | | | | 8 | 12.2 | 4.2 | | |