HRP MASTERCLASS LITE PACKAGE - The Ultimate Home Study Course
When we made the plan to make this superb new element of our service available, we took into account the fact that some new or long term members may have other commitments or be just unable to attend a Live Event.
Therefore, I have put together the a
Masterclass LITE
 product and course, which will ensure you can have all the benefits of this program but in the luxury of your own home or office space!
The MasterClass Event was filmed and this now allows you to enjoy the highlights of the event from the comfort of your own home.
There are just 10 places of this LITE package available and is by invite only.
Let me recap what you will get with this Masterclass LITE(non attendee) package:
3 months free use of HRP Automiser (worth £150)
HRP Masterclass Automiser user manual
Slide Presentation used at the live event.
All relevant documentation
Private video suite in your Masterclass members area.
Course itinerary is broken down into dedicated videos
Appointment of a personal daily betting concierge for 1 month
The HRP Pro Bet Automiser software
Full & Complete access to the HRP Method Suite
Full & complete daily bet download utility
HRP Pro Spreadsheets
After successful payment you will get access to My Masterclass page
It's important that you get your purchase and booking in today, we will be limited as to how many people can be assisted by your personal betting concierge. We have made just 10 of these LITE packages available.
ORDER NOW
PLEASE NOTE: An active membership with The Horse Race Predictor is required. Can be purchased later if you are not yet a member.
HRP MASTERCLASS LITE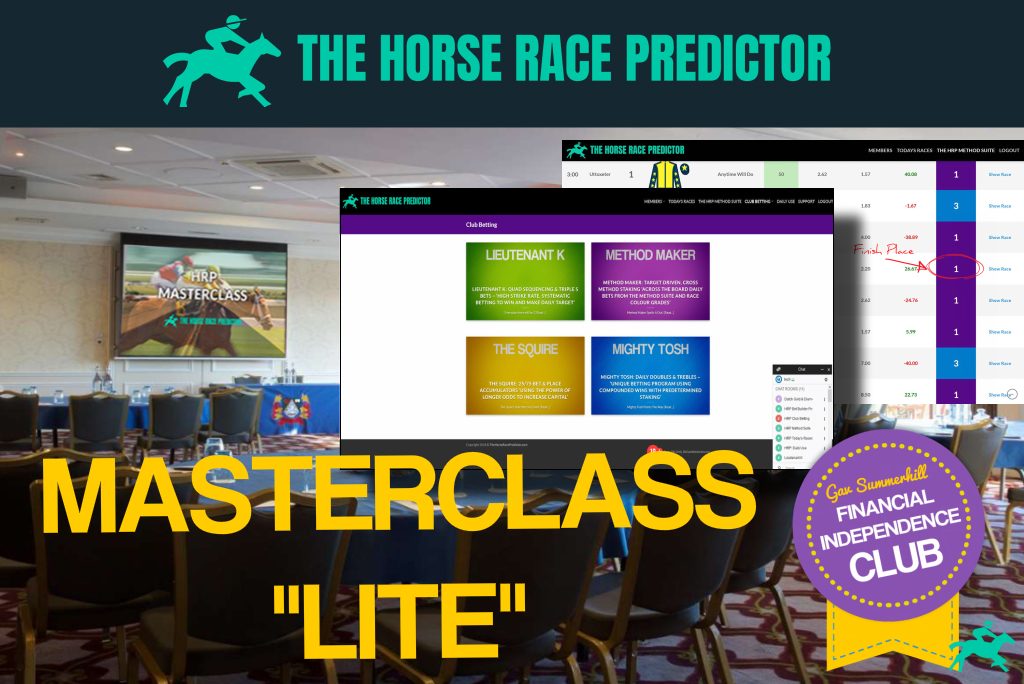 What the independent Review said:
"A tad early because of the equine flu outbreak but I have enough data to form a view of this service: this will be approved and is possibly the best service I have reviewed in over 10 years!
That is some statement!"
FAQ
[ShowSalesProof ID=2][/ShowSalesProof]